Please complete the following form to download our brochure.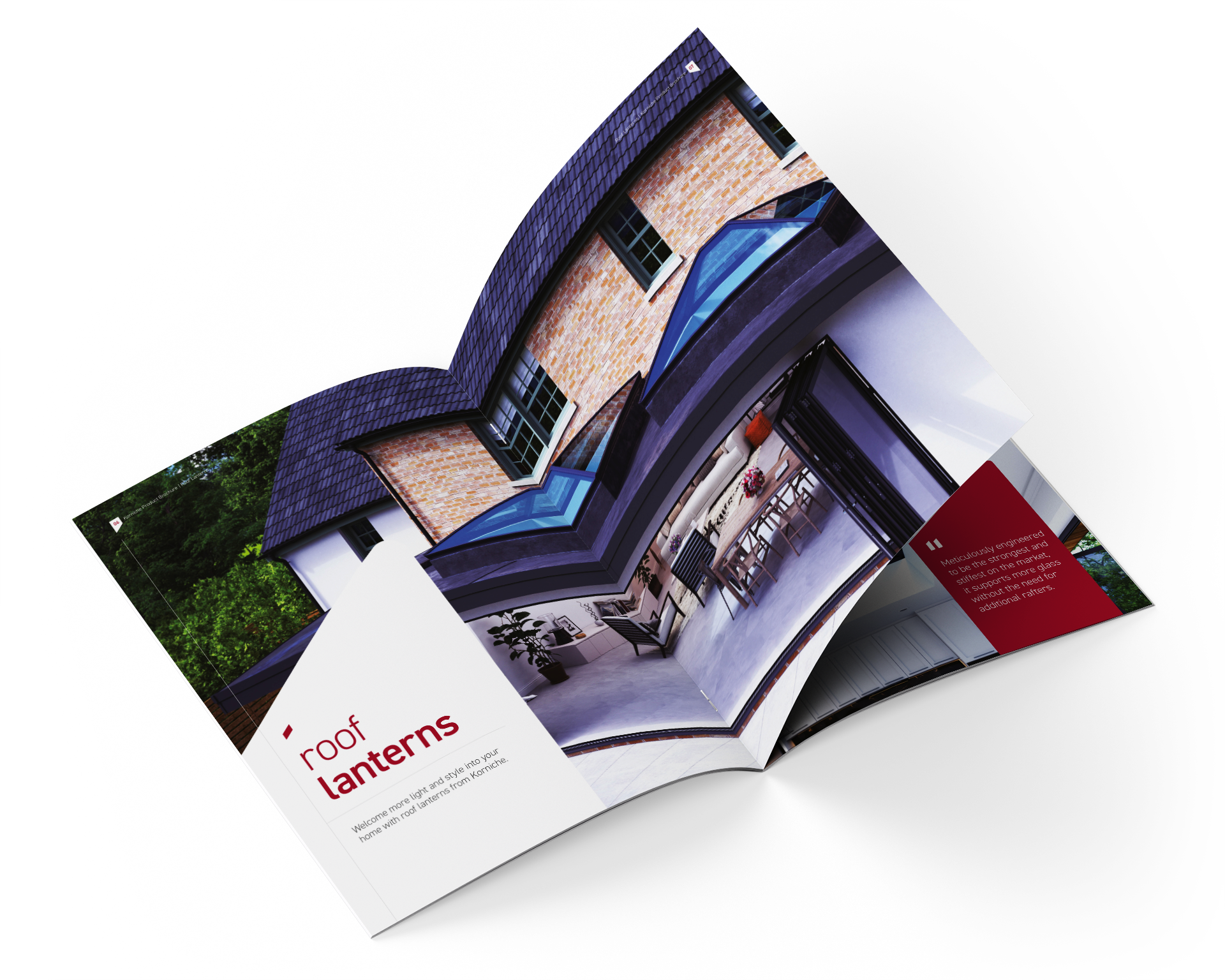 Illuminate Your Living Space
Brighten your home and experience the forefront of innovation with the Korniche Flat Glass™. Create a space into a welcoming room flooded by natural light.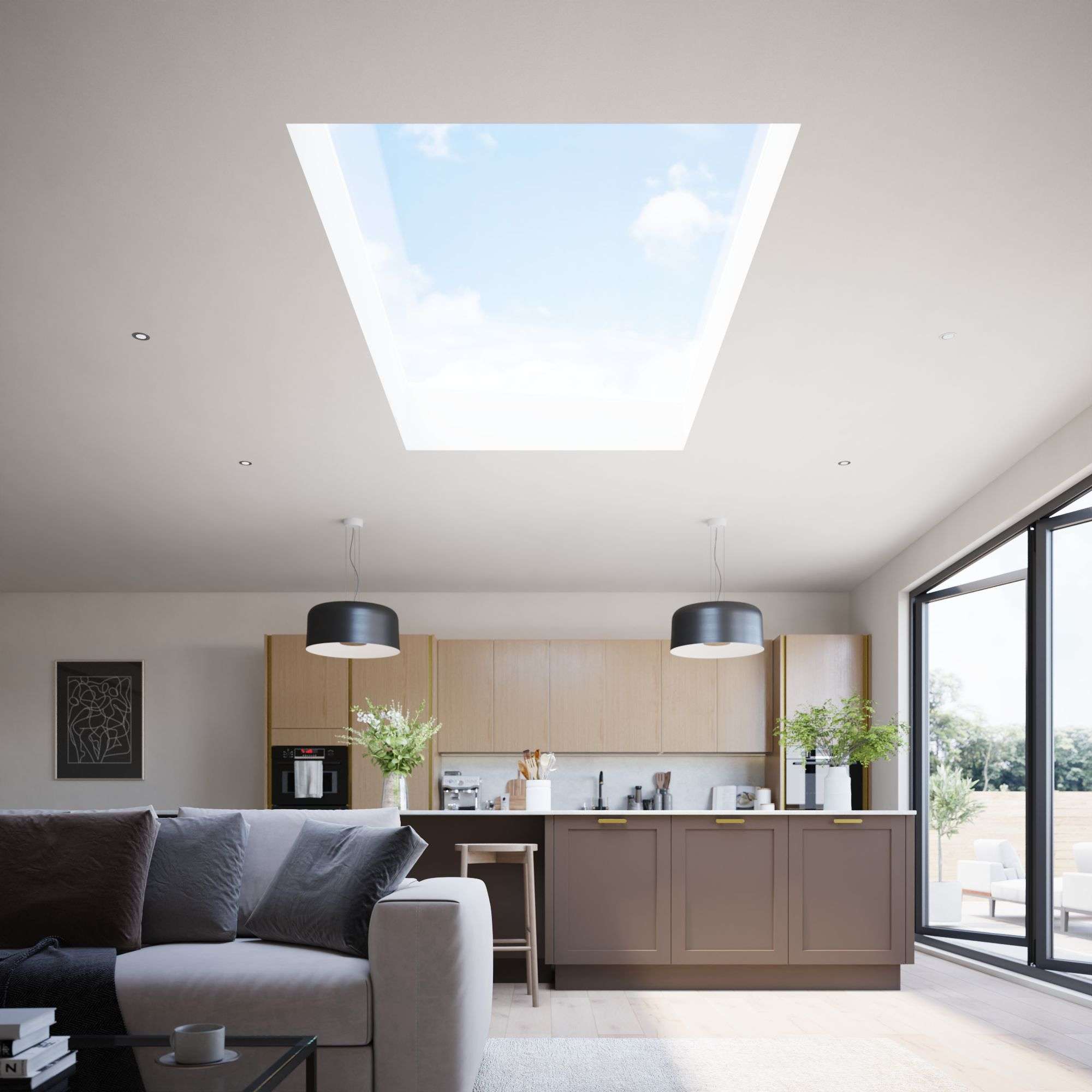 Precision. Simplicity. Beauty.
Korniche crafts products with you in mind, offering an extra touch of elegance and class.
Dive into a world where aesthetics and efficiency combine.
Beyond it's visual appeal, the Korniche Flat Glass design stands out with its exceptional thermal efficiency, credited to the polyamide inner section, Saving money on your energy bills, creating a space that can be used all year around.
Effortless glass replacement for peace of mind
At Korniche we understand that accidents can happen. That's why we prioritise your peace of mind. Our Flat Glass design ensures swift and effortless glazing replacement, all while preserving the integrity of your interior décor.
Furthermore, our choice of standard double or triple glazed panels not only offers affordability but also sidesteps the often expensive and cumbersome full replacements seen with our competitor stepped or ceramic-edged designs.
Easy, mess-free installation
The Korniche Flat GlassTM is easy to install. Enjoy the benefit of your build project being water tight in the shortest possible time without the hassle of a complicated installation.
The frame arrives fully assembled and just needs to be positioned, secured, and sealed.
The glass unit simply clips into place, elegantly concealing the joint between the Flat Glass and the plastered finish, ensuring your décor remains flawless.
With Korniche, enhancing your home is both quick and effortless.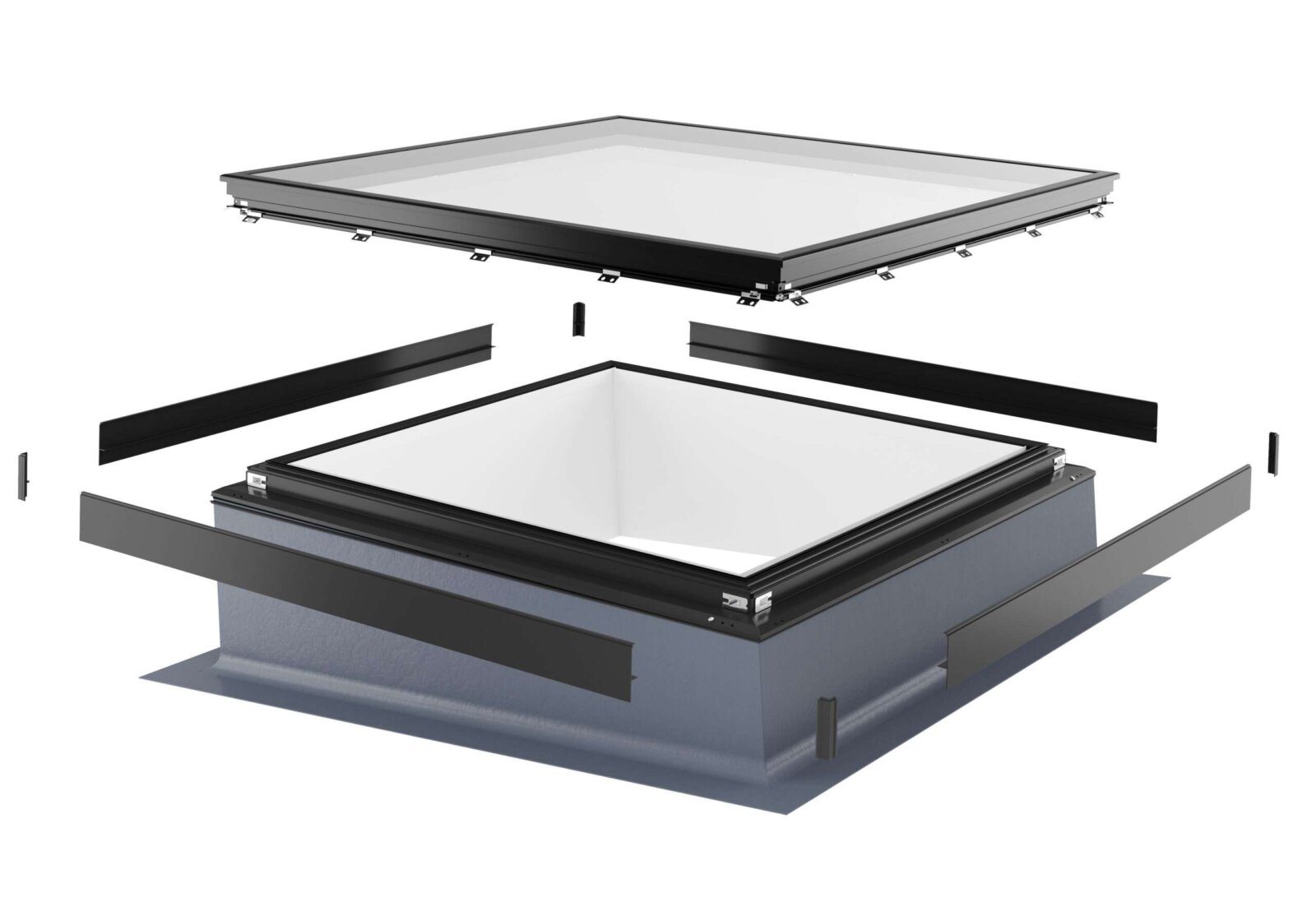 Colours to reflect your style
Korniche Flat Glass offers a choice of readily available stock colours: Grey, Black, and White. This ensures swift delivery times.
For a more unique touch, Korniche also provide bespoke powder coated RAL colour finishes upon request. Regardless of your colour choice, complementing each hue is a black gloss bezel, meticulously framing the glass unit.



Glazing tailored to your preference
Choose from a laminated double or a triple glazed option. Glass units are available in a range of tints: clear, blue, or neutral, ensuring your aesthetic and functional needs are met.
For those seeking additional durability and safety, Korniche also offer a laminated option. Enhance your experience with a self-clean coating that delivers superb weather resistance and lowers maintenance.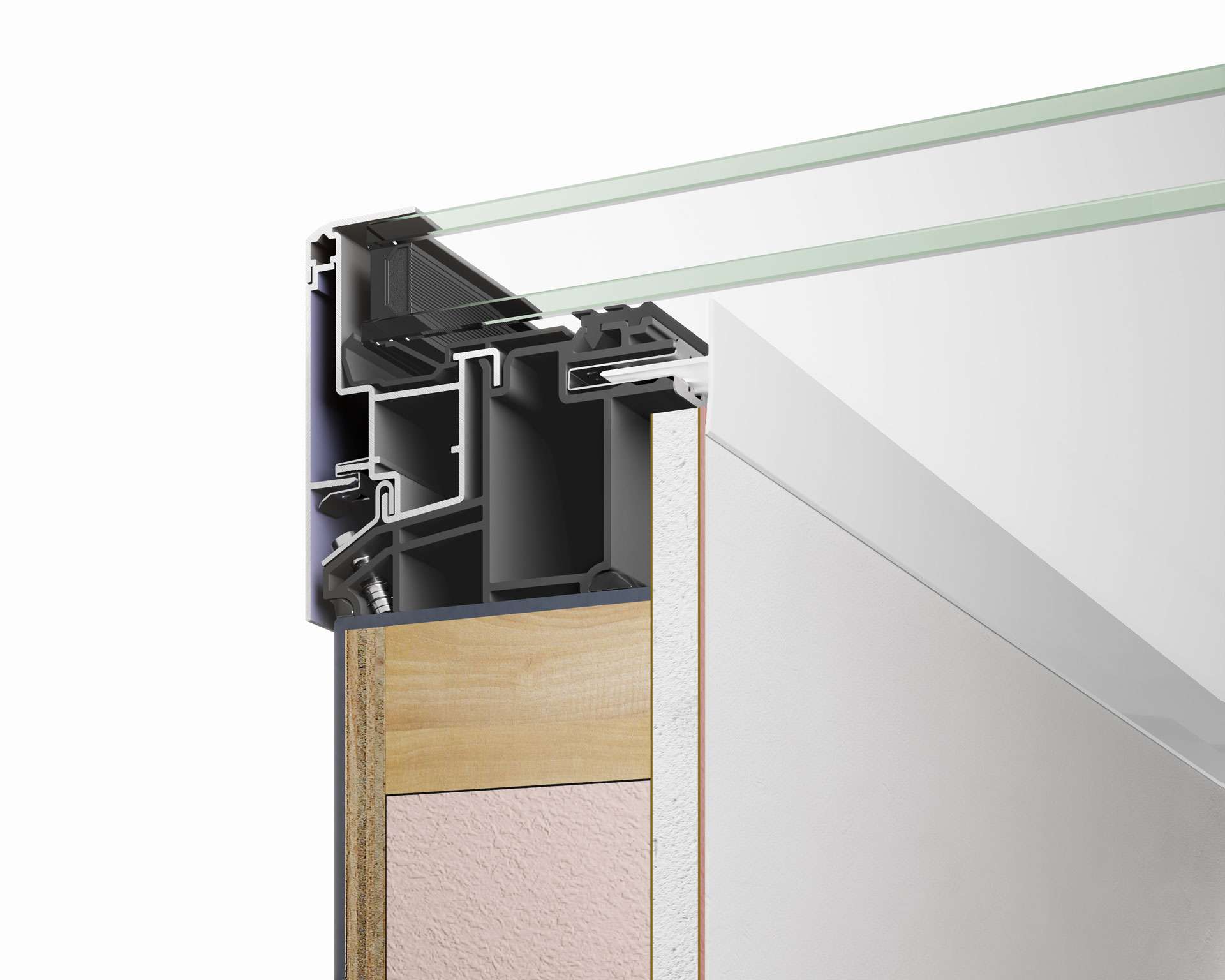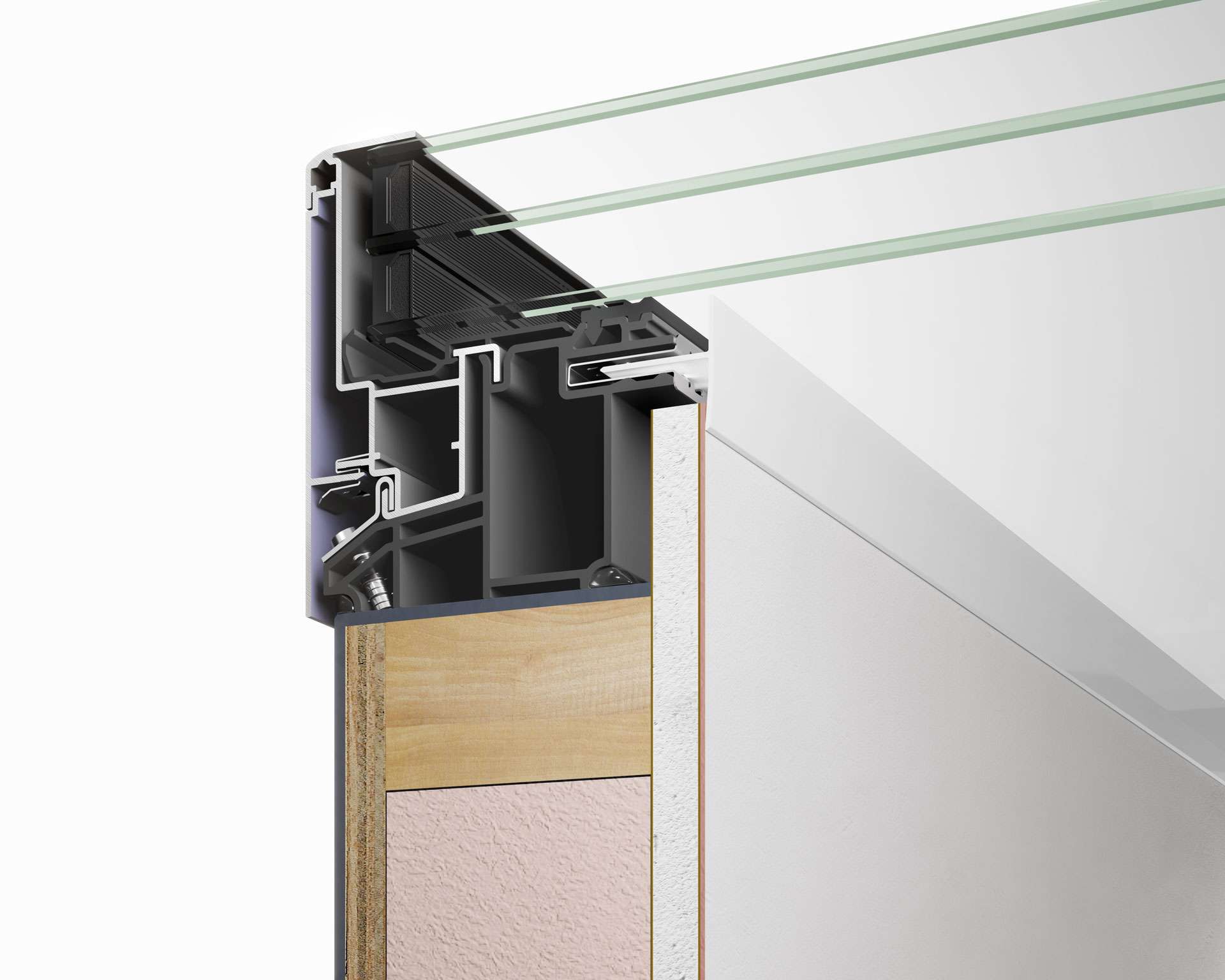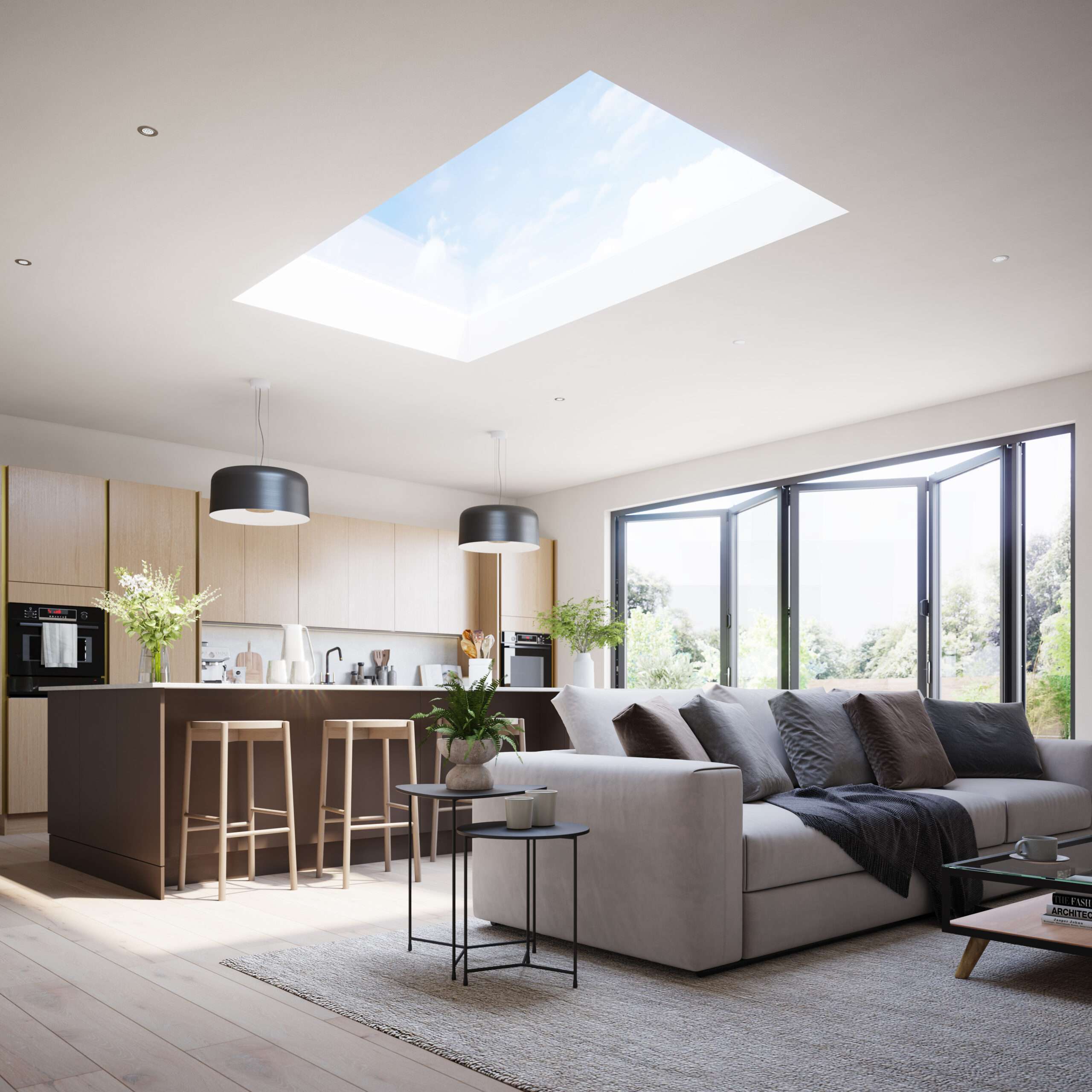 Security with proven standards
Your home's safety is non-negotiable. With Korniche Flat Glass, you're not just buying a fantastic, glazed product; you're investing in peace of mind.
Meeting the stringent PAS 24:2016 standard, our Flat Glass offers enhanced protection against potential threats, helping shield both your valuables and your loved ones.
For Korniche, security isn't a mere feature—it's foundational. The commitment to meeting and exceeding these established benchmarks allows you to confidently choose Korniche, knowing that you're placing the safety of your home in trusted hands.
Frequently asked questions 
What is 'self clean' glass?
Self cleaning glass combines both self cleaning and solar control properties, making them highly desirable amongst homeowners looking for the ultimate in glass solutions. The coating that is applied to the glass breaks down organic dirt and by doing so reduces the adhesion of inorganic dirt. Water droplets are spread out to form a sheet and this picks up the loosened dirt particles as it drains off the surface. The result is remarkable and a difference you can actually see.
What does U Value mean?
Thermal transmittance, also known as U-value, is the rate of transfer of heat through the glass. It is measured as watts per square meter Kelvin or W/m²K. The better the insulation, the lower the U-value is.
Why does aluminium need to be thermally broken?
Aluminium like all metals is a conductor of heat. If our profiles weren't thermally broken the inside heat would be wicked away and lost to the colder outside. By creating a profile assembled with polyamide sections between the inside and outside portions, the 'thermal bridge' is stopped. Polyamide is a glass filled plastic meaning it is an insulator and therefore there is virtually no conduction of heat through it.
What are the benefits of powder coat verses wet paint?
Powder coating provides better performance than wet paint—it is more resistant to chipping, scratching, and other wear because of the thermal bonding it undergoes during curing, and because it can be applied in much thicker layers. This performance is especially important for outdoor products, like aluminium glazed products.
In addition to its physical toughness, powder coating provides superior colour retention. Long term exposure to moisture, sunlight, and heat breaks down the resins found in both paint and powder coating. This process, known as chalking, causes resin and pigment particles to lose adhesion. Affected particles form a chalk-like layer on the coating surface.
The early stages of chalking merely give the coating a faded appearance, but severe chalking will eventually erode the coating enough to compromise surface protection. The rate of chalking depends on the resiliency of the resin. Polyester based powder coatings are frequently used as topcoats due to their exceptional chalk resistance.
Why is PAS24:2016 important?
By investing in a door that meets the UKAS PAS 24 2016 security regulations, you can rest assured that you are installing a safe and secure door into your property. The certification means that the door you are purchasing has been tried, tested and approved by the professionals, and can be considered secure enough to use for your home.
Can I buy Korniche products to install myself?
Although you can't buy the products directly from ourselves as we are business to business only, you can use our 'geo tool' to source a local suppler to buy from. Alternatively, we can sell directly to your builder.
Do I need a specialist trades person to install Korniche products?
The Korniche lantern is a product that most people could competently undertake the installation of. It requires no specialist tools and everything goes together only one way. The Korniche bifolding door however, is a little bit more specialist and we recommend that a tradesperson with fitting experience of glazed products is used to ensure the best installation and performance is achieved.
Why is clip in bead important and why is it better than wedge gasket?
Our patented clip bead is used on our bifolding doors to retain the glass units in the sashes. The traditional method of retaining glass in aluminium glazed products is to locate an aluminium bead profile and pre load it with the use of a wedge gasket. Essentially there is enough room to locate the bead profile in the sash and then a wedge gasket is fitted to take up the gap and means the bead cant be removed. This is time consuming and fiddly and the result isn't always as consistent in terms of appearance as some might hope. The patented clip bead we developed has a pre fitted gasket and utilises a plastic clip element that enables the bead to be clipped in incredibly easily and quickly. The result is not only neat and the sightlines consistent but also saves your installer a large amount of fitting time.
Why might I need 'kit form'?
As a standard, our bifolding doors are preassembled before delivery. The doors only need to be fixed into position and the glass fitted. However, we can supply the doors in kit form if required. This means the outerframe is in four pieces and the sashes packaged up separately. There are various reasons why doors might be required this way but some of the main reasons are down to restrictions on access. For example, if the doors are being fitted in a property where there is no route to the intended location except through the house, then kit form would be a viable way of achieving this.
Which door styles are best and what is a traffic door?
Most people want the option to have one of the sashes that can be used as an everyday access door instead of having to fold at least two sashes together to get in and out of the property. This access door is known as a traffic door. It has a more traditional lever / lever handle fitted to it and has the locking barrel incorporated. For more information on which styles incorporate a traffic door, look in the bifolding door section.
What are the benefits of the anti backdrive feature in the shootbolt handle?
Usually unless the shootbolt is locked then it remains possible to force the shootbolts up with a jemmy bar from the outside and on doors with out a traffic door, this means the doors can be opened and access can be gained to the property. We engineered a unique feature into our shootbolt handles that means in their closed position they physically cant be back driven from the outside. This means that although there is the added piece of mind from the key operated shootbolt lock, it isn't required to keep your property safe and secure.
What is a 3 star locking barrel?
3 star locking barrels have been subjected to an attack test in addition to the testing performed on a one star cylinder. 3 star locking barrels resist direct attack and offer a significant security upgrade to any door regardless of the type of handle used. The 3 star barrel is part of the enhanced security we offer as standard as part of the PAS24:2016 standard.
Can I have trickle vents in the bifolding door, and do I need a frame extender to the head of the door to allow for them?
New build extensions usually require trickle ventilation to comply with building regulations. It is always best to ask your preferred installer or building control officer about this and how much trickle ventilation is required. Our trickle vents can provide 2500mm2 each and we can offer up to 3 vents in each door set.
In most other bifolding door systems the trickle vent is usually housed in a frame extender that is fitted to the top of the door. This is both unsightly and adds additional cost and so we developed our system to allow trickle vents to be fitted directly into the head of the door outerframe.
When would the main traffic door require shootbolt extensions?
The traffic door automatically comes with shootbolt extensions to the main lock when the sash height is 2261 mm or greater. This is done to support the top of the sash and offer better weather performance.
Why are Q-Lon seals industry leading?
Q-Lon seals offer the ultimate in material and function to provide the highest standard of sealing ability, even under extreme conditions. As they have a foam core, they offer excellent memory and return to their original shape even after periods of long compression and due to the polyethylene film and polypropylene insert, they provide fantastic sealing performance and don't stretch or shrink over time.
Why is it better to have sealed bearings on a bifolding door?
Sealed bearings are often not used in the design of bifolding door rollers; however, they stop debris and moisture getting into the bearings which significantly increases the life of the bearing. So, bearings on the Korniche door include weather sealing rings on the horizontal rollers and nitrile rubber seals on the vertical rollers.
What is the articulated main roller shaft on the Korniche bifold door and why is it good?
Korniche bifold door rollers feature roller articulation exclusive to Korniche. When double wheel axles are used, the loads on the two wheels fluctuate as the roller is moved along the door threshold. The articulation allows for load balancing between the two wheels, which results in smoother operation, less sensitivity to floor flatness and longer product life.
Why is it better to have roller bearings on the bifold door rollers?
Roller bearings provide the lowest friction available for bifold doors currently available. Many competitors utilise roller bearings on only the vertical wheels and plain bushes on the horizontal wheels. The horizontal rollers take as much load as the vertical wheels when the doors are folded fully open and so it is important to have the lowest possible friction on all the axles. The result is a very smooth door action with minimum friction and no stiction throughout the age of the doors.